The last edition in June Funermostra 2011 at Feria Valencia closed its doors with very positive results.
The innovative capacity of exhibitors, a comprehensive and representative of the sector and the quality of the visitors have been three of the most valued aspects. With this balance Funermostra many companies find that it has become the international benchmark fair.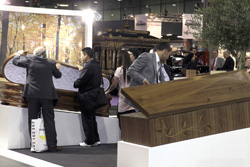 One of the main priorities of the organization of the exhibition was to enhance the look of new buyers, in this sense to José Luis Gabas, commercial director Tanasystem; "the show has been extraordinary, has many new people interested in our products. The professional level has been great for the little decision-making of the visitors with whom we have interviewed".
For Martin Delgado, Neoesculturas manager, first company that has participated in a trade fair in order to introduce its flagship- made porcelain cremation ashes- professional market, Funermostra its commitment has been very successful. According to Delgado: "here is our target customer, Now not only do private commissions but thanks to the show that has been a shuttle of our business and we foresee a huge growth product to get close deals with funeral homes in Seville, Albacete, Canary Islands, Alicante; Galicia, Pontevedra, and also from France and Holland to distribute our product".
Meanwhile Ramon company Arasanz Blue Gala, another company that has participated for the first time in the Spanish show with an innovative full service accompanying sea ash, explained that from the first day to last, "the large influx of visitors has been steady".
Antonio Alvarez, President Interfunerarias, one of the most important funerary networks of Spain considers that Funermostra "is the best show and can not be compared to any other". Alvarez, representing the fifth generation of his family funeral said: "there are still a few hours to close the show but my stand has had twice as many visitors as other years, more than a thousand professionals".
Rudd Van Beurden, Company responsible Funeral Products, one of the foreign companies participating for the second time in Funermostra stressed that the results have been very positive: "This fair is very evolutionary and if I compare with other fairs to which we turn also, Funermostra is arguably the most successful".
Editing 2011 supply has met 153 exhibiting brands and has had a great staging of some stands which together have increased 30% net space of the fair. The innovations presented have doubled "demonstrating the great effort of the exhibiting company for the quality and innovation of new products and services increasingly personalized disagree with changing demand"; Beatriz said Colom, Exhibition Director
According to Miguel Escorihuela, President Funermostra: "the challenge was that the show was an essential tool to boost sector activity, a place to identify new business opportunities and strengthen professional relationships and information on trends for the industry evolves and I sincerely believe that we have exceeded the targets set".