Thursday 28 June, was held at the Club CLUB DAVID LLOYD Barcelona TURÓ the IV International Padel Tournament Hygeco International.
For the fourth consecutive year and for the first time without rain, met 16 pairs of players from all corners of Spain.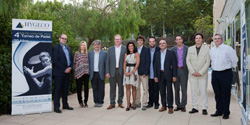 The champion duo 2011, Joan COMPANY y Agustí AGUILAR, defended his crown, but this year, couples had prepared well and had a high level. Would be used to fund.
We were escorted Santander friends, Donosti, Valencia, Alicante, Madrid, Amposta, Girona, Terrace, Sabadell, Gironella, Ibiza, Granada, Mataro, Barcelona, Elche, Xativa, Holland, Belgium, France, etc.
Under the formula 4 groups 4 couples, "liguilla", where the first two couples went to disappear in direct crosses towards the end and the other two couples were crossed in qualifying for the consolation champion.
For accompanying, introductory classes were prepared to paddle and others enjoyed the relaxing water circuits or the refreshing outdoor pool, Hill Club.
At noon a cold buffet is served in the famous Centennial Hall to charge the batteries and the finals.
In the afternoon and after a few interesting crossings, Grand Final where he won the duo formed by Santi BACH and Adrià BIGLIERI was played by 2-1 although the second Joan COMPANY and Agustí AGUILAR, had 4 match points.
The consolation final was won by Jaume PEREZ and Ivan CORDOBA PFI.
The awards ceremony was held at the poolside pergola and we accompany Patrick DE MEYER Facultatieve Group Vice President and Catherine CANTIN, Director marquetin and Advertising Hygeco International.
Juan Antonio ZARCO thanked the team's support and commitment in organizing this Event , as well as people in the group , displaced from Holland and France.
About 140 Guests enjoyed a magnificent hot and cold catering washed down with wine and soft drinks. He offered as dessert, cold truffle cake and cream , with screen printing color candy with Hygeco International logo and name.
A Mrs. The gift is a beautiful plant Olivo, to decorate a special place of peace and full.
This year 15 sponsors, allowed that could be held in a brilliant tournament and celebration 20 Anniversary Hygeco Spain, SA.
Past 12 pm, continued the party on the night of San Pedro in a nightclub in Pedralbes where I was I offer with champagne by champions and was tasted a puff pastry with cream and berries shaped coffin, where a number Accompany 20 and flares were present to taste it as so final party in the NUBA , where I will enjoy moments of relaxation after stress throughout the day.
We are already working to June 2013, expect them all, after FUNERMOSTRA 2013.
This tournament was timed to coincide with the celebration of 20 Anniversary HYGECO SPAIN SA.