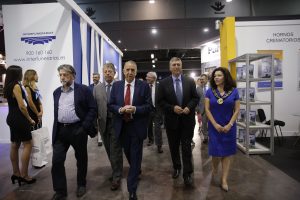 Rafael Climent, conseller de Economía Sostenible, Sectores Productivos, Comercio y Trabajo, ha inaugurado esta mañana la 14ª edición de FUNERMOSTRA, que hasta el próximo viernes reúne en Feria Valencia la mayor oferta de productos y servicios para el sector funerario de España.
Durante su visita al certamen Climent ha presidido la presentación del decálogo del sector funerario que ha elaborado PANASEF, the National Association of Funeral Services. Climent ha destacado que este decálogo es una señal de la "transparencia y profesionalidad" del sector. Según ha explicado Carlos Hurtado, secretario general de la Asociación, el decálogo incluye puntos como la profesionalidad, la confidencialidad o la libertad de elección, y tiene la voluntad de ser aplicado en todo el sector.
La cita reúne un buen número de innovaciones como aplicaciones móviles para realizar perfiles conmemorativos, urnas funerarias interactivas o programas de gestión para cementerios. El arte funerario también tiene un lugar preferente en FUNERMOSTRA con productos como arcas y monumentos funerarios personalizados, jewelry to contain ashes or sculptures made from ashes,,es,In FUNERMOSTRA also they can meet environmental solutions for the environmentally compatible as cooling systems,,es,biodegradable urns made or natural products coffers,,es,The event also hosts products such as vehicles,,es,or prefabricated,,es,and services covering the whole process of funeral business,,es,Minister of Sustainable Economy,,es,You will be responsible for opening the event and preside over the presentation of the funeral industry Decalogue developed by PANASEF,,es,a document distributed to the morgues of the companies associated with the organization,,gl,the event will host training sessions for professionals PANASEF hand FIAT-IFTA and industry,,es.
En FUNER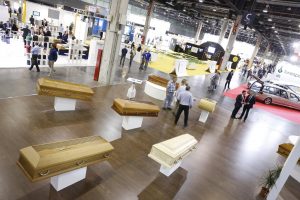 MOSTRA también se pueden conocer soluciones medioambientales para el sector como sistemas de refrigeración ecocompatibles, valorización de residuos, urnas biodegradables o arcas realizadas con productos naturales. El certamen acoge también productos como vehículos, coronas, ovens, coffers, polls, maquinaria, o prefabricados, y de servicios que cubren todo el proceso del negocio funerario.
El certamen ha continuado por la tarde con su programa de actos paralelos con dos conferencias sobre responsabilidad penal de las empresas y la importancia de las redes sociales para el sector funerario. Ya fuera del recinto ferial mantiene abierta hasta el próximo domingo la "Muestra cultural sobre la vida y la muerte" en el Palau de l'Exposició de València.
FUNERMOSTRA 2017 reúne hasta el próximo viernes un total de 110 expositores y marcas de España, Germany, Belice, China, United States, India, Italy, Mexico, Países Bajos y Portugal en una superficie de 4.200 metros cuadrados en el pabellón N2P2 de Feria Valencia.