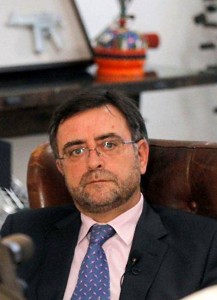 The vice president of Funespaña, José Vicente Aparicio, detailed in this interview the participation of the firm in Funermostra, within which it has organized numerous parallel activities of great interest. Expose your opinion of the funeral industry challenges and insists that society must move a more positive image.
– Funespaña turns this year with the International Fair of Products and Funeral, FUNERMOSTRA, held at Feria de Valencia 22 nd to 24 May. Why? What is the importance of the fair as a meeting sectoral
From FUNESPAÑA believe that the funeral industry, generally and jointly, should send messages to society to show that we are evolving products and services according to the new criteria and conceptual changes that are occurring. FUNERMOSTRA, fair in which are represented the majority of firms in the sector, offers the ideal setting for these messages move harder and reach the target audience, families. Not to forget that, also, is a meeting place for professionals from around the world, of which always learn and is strengthened with new ideas. With these objectives we think FUNESPAÑA, as a leader in the funeral industry, must be present, should be displayed and should contribute.
– What will the show FUNESPAÑA Visitante?
For a year and a half, FUNESPAÑA has taken a dimension that we are among the most important funeral Europe and we want to show professionals. New locations, new facilities, new services and, as usual, eager to collaborate in those places where you do not have a direct presence. Through our unit A.F.S. (All Funeral Services), First Call Center specializes in Funeral Service with a network of assistants to Families of the deceased's 24 hour, offer our large national clients, and international, Funeral service delivery anywhere in Spain and anywhere in the world, what made us evolve and implement working systems "on line" that facilitates communication and administrative tasks with those operators with whom we have agreements. Precisely on this particular y, on Thursday, 23, to 11 h., in the booth Funespaña, will make a real-time simulation, of how attending a funeral service from the origin advantage of new technologies; in this case, Live we present the first 9 minutes of the call for a company to communicate a death Ca24horas.
– What goals have you set for this edition?
As mentioned: contact with the sector, show our evolution and willingness to collaborate and contribute our bit to, the funeral industry as a whole, we offer and convey a good image to the general public, unprofessional, and do not go to the fair.
– What are the side events organized during the celebration FUNESPAÑA FUNERMOSTRA?
Outside the fairgrounds, specifically in the sports hall of the Petxina, days 22 and 23 in the afternoon, hold two cultural events open to the public, with the previous reservation "prensa@funespana.es" . On Wednesday, day 22, let's go for psychology for a great professional and writer, Maria Jesús Álava, positivism transmit to us with a lecture on "The uselessness of suffering" and, Thursday, day 23, Nieves journalist and writer Concostrina, with his usual, discuss the "Epitaphs" as cultural and literary expression; on both days, after talks, will screen clips at those offered different situations and feminine looks before death. A whole bet with film FUNESPAÑA, literature and psychology.
– Why have decided to organize some of these activities in the city of Valencia, outside the fairgrounds?
On the one hand we want to play down the concept of death in society and present it as part of life cycle; on the other hand we want to be related to the sector with a more positive and not so focused on burial exclusive actions, should be launched timely and move messages to the general public.
– At what point is the sector and what are the most immediate challenges?
In my opinion, without stopping to analyze the impact of the VAT increase has resulted in funeral-services already complain and will advance slightly- or legislative changes that are coming, and will come and, while, we must work from the employer-, I think we have a great challenge ahead trying to bring the provision, still more, criteria to different families. We need to expand the range of possibilities, reach the personalization .... to make life tributes to generators of good memories and shared experiences, helping dramatize. A whole new philosophy of service, increasingly, we are suing the sector and, from FUNESPAÑA, is being a business goal.