According to 40.000 interviews with families who have had to hire a funeral service in recent months
PANASEF (National Association of Funeral Services) this morning a report on the assessment of families at funeral services. For that, an external entity has made 40.000 interviews in Andalusia, Catalonia and Valencia, families who have had to use in the last months of funeral services in any of the 107 mortuaries Report objects.
The data are revealing. According to interviews, on a scale of 1 nd to 10, the 97% of the families interviewed more than valoranen 7 the service provided by the funeral company. Meanwhile he 3% remaining, appreciates the funeral service between 0 and a 6 and considers that it should improve some details of service.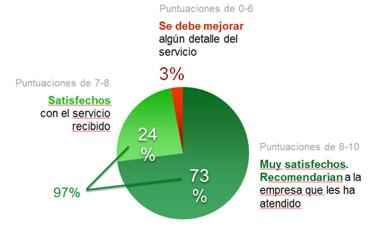 Aspects that value families
The aspects that have most valued families in interviews have been personalde treatment of undertakers, professionalism and facilities. "To PANASEF is a great satisfaction that families valorenel effort that companies have made in recent years
to improve funeral facilities. Also, we know that people are our best asset. Por ello, funeral are constantly training with the aim of improving care for families. And all this, always trying to offer the best price to families. And families this has been proven as, according to this study, only 1,5% of the families interviewed consider that the price of the service is the reason you are not satisfied with the funeral company ", comenta Juan Vicente Sánchez-Araña, presidente de PANASEF.
In addition Sánchez-Araña added, "even so, we must continue working for the 3% of families who have not valued positively our services have different perception of our work the next time you have to make use of our services ".
Data from this study can not be extrapolated to the whole country as it has been done only in three regions. However, the volume of interviews allows a significant ray of the perception that society has about funeral services.
Note to the editor: PANASEF is the national association representing the companies operating in the sector of funeral services (SSFF), both providing all services generated by a death, as they provide only the services of burial and / or cremation. According to official estimates in Spain operate a 1.700 funeral service companies, They are employing 9.500 workers and have a global turnover of about 1.600 millions.