Mémora funeral is the first group to be certified ISO 14001:2004 environmental management in Spain. This rating has been given to the Mortuary-Crematory Funeral Girona and Sant Gervasi and ensures compliance with the rules on management responsibility to the environment. The Mémora Group, through Servilusa, leader in the funeral industry in Portugal, scored the first environmental certification in Europe. In order to obtain this certification, centers have had to prove their efficiency in terms of resources used in daily operations (power consumption reductions, water and paper and control of air emissions, inter alia).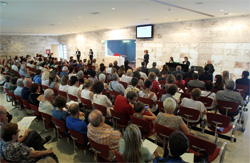 Our commitment to sustainability is a constant Mémora Group in its business strategy. Recently in the Funeral Service Torrero in Zaragoza (Serfutosa), company owned by the group, installing four crematoria opened with four innovative filtration systems dioxin. This is the second installation of its kind in Spain, In advance of this way to the future harmonization of European environmental emissions regulations.
The Group carries out an active policy on the environment is also reflected in its commitment to ecofunerales. In this sense, funerary group offers families of certified wood coffins, organic clothing for the deceased, biodegradable urns and gardens to deposit and spread the ashes.
This awareness is also evident in the new workshop of funeral caskets Barcelona. The new center has been designed and built in compliance with the most advanced criteria and standards of sustainability and is a more efficient management of resources due to its high degree of automation.
The Mémora Group works to improve services and enhance the efficiency of the resources available. In addition to receiving the certification of environmental responsibility, centers have been recognized again with the funeral industry specific certifications and quality management.
In order to meet the new demands of society, the MÉMORA Group offers a wide range of services including, inter alia, service funding, products memory management, holding civil ceremonies and custom, psychological assistance, the ecofunerales, Live Music at the time of burial, catering en la sala, diamonds made from hair, and the preservation and custody of DNA, inter alia.
Funeral Service About Barcelona
Funeral Services of Barcelona, joint venture owned by the city of Barcelona and Mémora Group, leader in the funeral industry in Spain and Portugal, manages the morgues of Sancho de Ávila, Les Corts, Collserola and Sant Gervasi has several offices located in different districts of the city of Barcelona and in large hospitals. The entity also covers international shuttle departed and, also, has a fleet of more than 50 vehicles serving the locals. SFB was awarded in 2001 the FAD Medal for innovation within the funeral industry.
Attention to Media:
InterMèdia GdC: 93 415 76 62 / info@intermedia.es