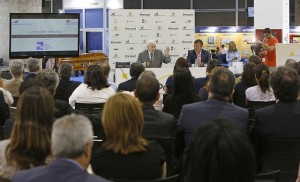 Leopoldo Abadía ha participado hoy en la última jornada de Funermostra, International Fair of Products and Funeral, que se ha celebrado esta semana en Feria Valencia.
El conocido autor de la "crisis Ninja" ha llenado la sala de conferencias del Espacio Panasef, en el pabellón 2 del recinto ferial, donde los profesionales funerarios han disfrutado de las sabias propuestas del conferenciante. "Austeridad, optimismo y esfuerzo" han sido algunas de sus recetas durante una interesante ponencia.
Abadía, al acabar su intervención, ha querido conocer de cerca a las empresas y se ha mostrado "entusiasmado" tras pasar por varios stands de la muestra.
El fin de fiesta lo han protagonizado, one year, Hygeco España y Facultative Technologies, ofreciendo paella valenciana a todos los profesionales.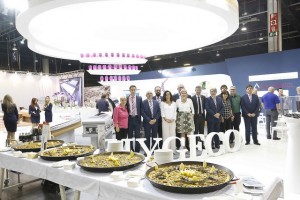 Funermostra ha clausurado así su décimo tercera edición. "La impresión general es que la convocatoria ha sido exitosa y las empresas han cumplido sus expectativas de negocio", asegura Miguel Escorihuela, presidente del certamen. For his part, la directora de Funermostra, Beatriz Colom, ha querido agradecer a todos los expositores su participación y ha destacado el apoyo de la patronal nacional Panasef y la asociación latinoamericana del sector funerario ALPAR.