"It is an ideal intellectual approach to improve the management of major disasters and provide more efficient and higher value solutions humanitarian". Thus described Ignacio Ulloa, Secretary of State for Security, Consular and Forensics Conference organized yesterday Mémora International – Mémora Group.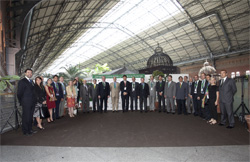 The meeting, on how to manage in the most appropriate consequences of an accident, has approached the subject from five blocks of knowledge: international collaboration, legal medicine, consular corps, funeral industry and psychological support. A comprehensive range that has had the experience of Ministry of Justice, in medical-legal and psychological. Just as the Diplomatic and Consular Corps, Forces of State Security (Scientific Police and Civil Guard), Emergency and Civil Protection.
The first block of debate has served to highlight the importance of international cooperation. Eduard Vidal, Director and General Manager of Grupo Mémora, It has indicated that it is necessary to maintain a direct and responsible relationship with other nations as, only in Spain, there is an influx of 52 million tourists a year, who could die during their stay in the country. It is forcing to have a prompt and professional repatriation process.
Duarte Nuno Vieira Professor, President of the International Academy of Legal Medicine and the European Council of Legal Medicine, supports the initiative of international cooperation to establish a standard regulation in the area of ​​forensic medicine. "It is important to take only two international forms, such as the Interpol and the Red Cross. This would allow us to integrate efforts in recognition of body, regardless of the country where the incident occurs", explains Nuno Vieira.
With regard to the area of ​​forensic medicine, Juan Antonio Cobo, Director of the Institute of Legal Medicine of Aragon, He explained that Spain currently has a high level of service. However, ensures that it is possible to go a step further, what is necessary for coordination more accurate forecasting and logistics.
The situation of the Spanish legal medicine was also analyzed from the case study of the Spanair plane crash at Barajas airport, Madrid. Gloria Vallejo, Madrid Department Director of the National Institute of Toxicology and Forensic Medicine, He has exposed how it carried out the genetic identification of victims, as well as the family relationship that existed between them. The case was also of exposure by Eduardo Andreu, Director of the Forensic Anatomical Institute of Madrid, to specify how transfer and study of organized 153 deceased passengers.
"There is not a free country to major disasters. Therefore we must harness globalization to promote education and international cooperation", considers Álvaro Malmierca, Dean of the Consular Corps of Madrid and Consul General of Uruguay in Madrid. His sentence was backed by consular representatives in Italy, Philippines, Oman and Japan, who have exposed the worst accidents that have lived in these countries in recent years, as the recent Tsunami in Japan the nation, or the earthquake which struck the north transalpine. Ambassador also Director of the Consular Emergency Unit unveiled international coordination carried out by the consular corps.
International integration and progress has transformed the funeral industry in recent 25 years, by Xavier Poch says, Managing Director of East Zone and emergency situations, Mémora Group. "Before we had precarious agencies and with low training, but now the sector has reached another dimension with specialized companies, human resources and quality materials", points out Poch.
These advances in the sector are those that have allowed the implementation of new services, as psychological support to the families of the victims. Joan Piñol, Director General of PSIKERED (Psychologists network of specialized professionals in mourning, Mémora Group), "when a loss reaches families, especially if it is unexpected, it is necessary to cope with the support of a qualified team to provide all the necessary support for those delicate moments", precise Piñol.
The day ended with the reading of the conclusions drawn by Drs. Arimany and Barbería, members of the Scientific Committee of the Conference, stressing the importance of multidisciplinary collaboration among coroners, scientific police, Forensic Genetics of the National Institute of Toxicology, civil protection, psychologists, consular corps and funeral services.
The Consular and Forensic Medicine Major Disasters Management Day has reached the participation of more than 300 people and sponsorship of PricewaterhouseCoopers, Telefónica, Accenture, optional Technologies, Hygeco International and Divine Aurora.
MEMORA International
Mémora International Group is Mémora platform that manages the international transfers of difuntos, a call center 24h / 365days and following the highest standards of quality and professionalism. It has an operations center nine support centers from which covers Spain and Portugal through service points Mémora Group and the network of collaborators funeral, created for greater coverage of the territory. Mémora International organizes consular days and legal medicine in the main cities of Spain and Portugal under the heading A new concept in international social commitment.
About Grupo Mémora
Mémora group is the first group in Spain and Portugal in funeral services, mortuaries, crematoria and cemetery management. In 2011 performed over 44.500 funeral and 15.000 cremations, and occupied its rooms viewing over 40.000 families in Spain and Portugal.
Throughout Spain operates and manages over 120 mortuaries, 20 crematoria and 18 cemeteries, offering local service with national and international vision solutions. Group sales in 2011 exceeded 155 million and consists of more than 1.200 Professional and 130 funeral. Its strategic plan 2009-2013 includes an investment of 110 million in the national and international expansion.
Grupo Memorize, through Servilusa, also leads the funeral industry in Portugal. The Group has pioneered the construction of the first funeral homes and crematories in Elvas and Figueira da Foz. Servilusa turnover in 2011, 26,2 million, performed 5.900 services and has more than 300 professionals.
For more information:
Rosario Correro
93 418 53 87 / 654 58 83 07
rcorrero@kreabgavinanderson.com
Kreab Gavin Anderson