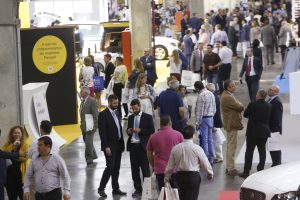 The International Fair of Products and Funeral, Funermostra, ya tiene fechas para su próxima cita. Será del 22 nd to 24 th May 2019 en el recinto de Feria Valencia y con el crecimiento de la oferta como objetivo prioritario. Likewise, el comité organizador de Funermostra ha marcado como eje estratégico y diferenciador, la potenciación del carácter internacional de la muestra, no solo desde el punto de vista del escaparate comercial sino también desde el lado de la demanda.
At its last edition,, Funermostra ya logró reunir entre sus expositores a empresas de España, Germany, Belice, China, United States, India, Italy, Mexico, Países Bajos y Portugal. Y entre sus actividades paralelas destacó la reunión anual del Consejo de Alta Dirección de la FIAT-IFTA, la Asociación Internacional del sector funerario, que además ofreció una jornada sobre el futuro de los funerales en diferentes mercados del planeta. Likewise, la patronal española, PANASEF llevó a cabo un completo programa de ponencias entre las que destacó la presentación del decálogo del sector funerario, que contó con la presencia del conseller de Economía Sostenible de la Generalitat Valenciana, Rafael Climent.
For Beatriz Colom, director of Funermostra., the greater quantity and quality of supply and the commitment of major industry associations by Funermostra,,es,"It encourages us to continue working to strengthen us as a key event for the funeral industry and leader in the international exhibition calendar",,es,He explains,,es,"The team event is already preparing the next call,,es,which will be the fifteenth,,es,with new and ambitious projects ",,es, "nos anima a seguir trabajando para reforzarnos como una cita clave para el sector funerario y referente en el calendario ferial internacional". Según explica, "el equipo del certamen está ya preparando la próxima convocatoria, que será la décimoquinta, con nuevos y ambiciosos proyectos".