The market for crematorium ovens in Spain is governed by quality and by scrupulous respect for environmental standards. The case of IDETER is in this sense paradigmatic, since it even opts for biomass as an option to run its facilities. Of all of it, and the presence of the firm in the next edition of FUNERMOSTRA, to be held 20 nd to 22 October at Feria Valencia, we speak in this interview with Francisco Pérez, IDETER manager, that also advances the presentation in the framework of the contest of a new firm: Iberian Commercial of Funeral Articles (CIDAF).
What are the novelties that IDETER includes in its catalog 2021?
This year, our firm bet, has been researching and developing equipment adapted to the needs of our customers.
In addition to increasing our catalog of funeral articles with products of our own manufacture through our new company, COMMERCIAL IBERICA OF FUNERAL ARTICLES (CIDAF). It is a project we have been working on for a long time, and we dedicate a lot of effort to the development of new products in this market line.
IDETER is characterized by its turnkey service, as well as the after-sales service it offers. Are these aspects what differentiate the firm in the market?
IDETER S.L. In addition to designing and manufacturing ovens with its own technology, meeting customer needs, it has the means and qualified technical personnel to carry out the installation and start-up., so we can offer a turnkey project.
Our preventive maintenance contracts allow the periodic replacement of the critical sensitive elements of the furnace before the end of its useful life, it also guarantees assistance in a timely manner in the event of a breakdown.
For this purpose IDETER has a department with qualified personnel, as well as vehicles and tools ready to attend to repair notices.
Efficiency in technical attention is a priority for our company and a source of pride to know that our clients are attended to and satisfied with this service..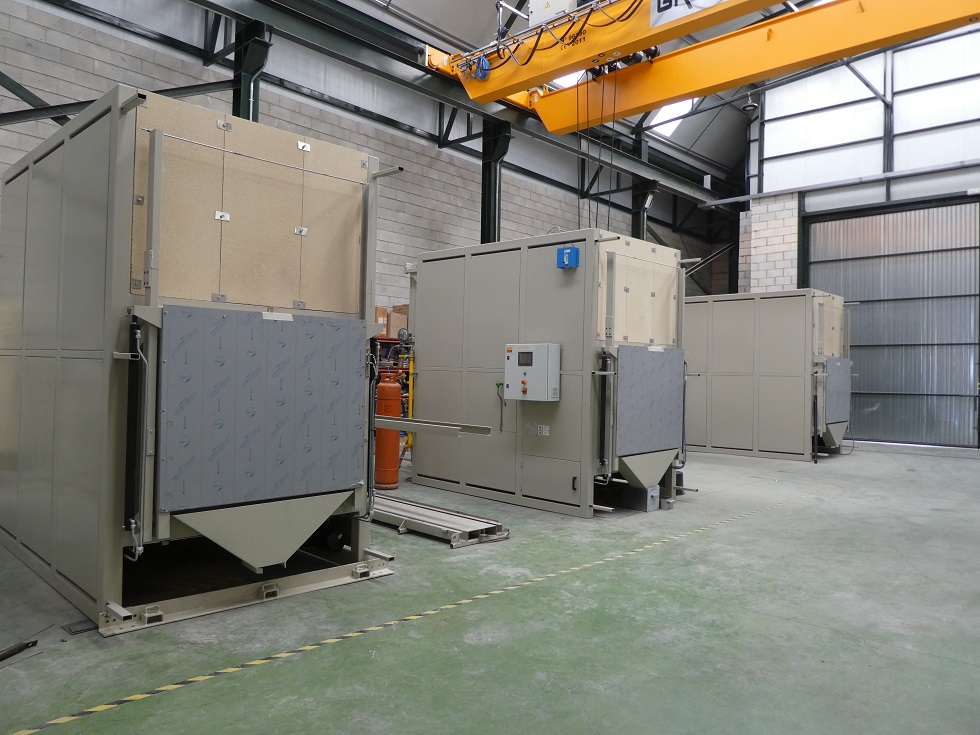 What is the current implementation of the firm, as well as its commercial projection?
IDETER S.L. has as a reality today the presence of its ovens throughout the Iberian Peninsula with more than 70 crematoriums for humans installed and a portfolio of orders that allows us to face new implementation projects both in Europe and in Latin America.
Regarding industrial cremation furnaces for livestock we have more than 150 units in operation with capacities ranging from 150 kilograms per charge up to 1.500.
Our international vocation is not new, since the 26 years that we have of history have given us the experience and knowledge of the export activity, IDETER has industrial furnaces sold in Europe, Africa and america.
What are clients looking for in IDETER?
Our clients are looking for more than a supplier, a partner with the ability to solve the particularity of your project, this and the quality of our products expressed in compliance with the law and environmental conditions, adjusted energy consumptions and design, They have given us the recognition of the funeral and livestock sector in record time.
Has there been an increase in demand in recent years?
That's how it is. There has been an increase in cremation in recent years. Also, has proven to be an efficient and effective response to the pandemic we are experiencing. In the future, this message, that we understand has penetrated in society will allow us to expand the facilities. We think that cremation will soon be imposed on burial.
Their ovens also work with biomass, certainly a measure in favor of the environment. What other innovations are you going to introduce in this same line of environmental commitment?
We were awarded for technological novelty at the FIGAN international fair in Zaragoza for the use of biomass combustion equipment in animal cremation together with energy recovery, following this line of respect for the environment, IDETER is committed to reducing consumption by improving efficiency.
How do you respond to the demand for pet equipment? Do you have positive prospects in Spain?
We are present in this sector with facilities for both collective and individual cremation ovens, For IDETER it is a field with a very promising future and our offer for this sector covers all capacities including equines.
What role do fairs like Funermostra play in your commercial strategy?
IDETER's relationship with FERIA de VALENCIA is historical, For us, CEVISAMA was the first forum where we exhibited many years ago and in multiple editions, now FUNERMOSTRA has given us the visibility in the funeral sector that we were looking for.
Fairs are fundamental in our commercial strategy since they allow us to put customers and suppliers in contact and present the products that you have..
IDETER must be present in all forums related to the sector as it reaffirms our commitment to service and gives us the image of a first-line company that we want to convey.