The team Funermostra, the International Documentary Fair Funeral Products and Services, is intensifying its marketing activities to attract exhibitors and visitors for its next edition, to be held in Valencia Fair 27 nd to 29 th May 2015.
So, form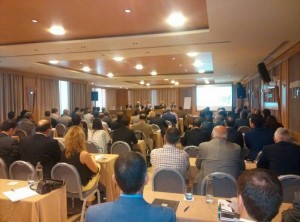 parallel to promotion in key international markets, is promoting the event promotion throughout the Spanish geography.
The last action was developed in the Andalusian market, specifically in Sevilla, far has shifted the director of the fair, Beatriz Colom, advantage of the celebration of the XII National Congress PANASEF, the association representing companies providing funeral services and cemeteries. The event took place from 12 nd to 14 June and during topical sectoral issues addressed, as the increase in VAT and competition in the funeral industry.
Funermostra, as main platform of the sector in Spain, he wanted to be present again at this meeting, that unites the entire funeral industry Spanish, where he has established "important business contacts that will be reflected in the figures for the next call", as says the director of the sample. "Our goal is to maintain high levels of customer loyalty and attract new customers to strengthen Funermostra as regards fair, sectioned with greater product offerings and funeral services, bringing all the power of purchase ", stresses Colom.