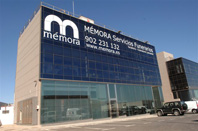 MÉMORA Group, The first group in Spain and Portugal for funeral services, mortuaries, crematoria and cemetery management, has launched a new-Crematorium Funeral in the town of Arrecife (Lanzarote), who has made a significant investment.
The inauguration was attended by the Director of Social Services, Marci Acuña the Cabildo Insular de Lanzarote, Juan Rafael Gonzalez Robayna, Deputy Mayor and Councillor for the City of Arrecife cemeteries and Eduardo F. Vidal Group Managing Director of Mémora, and other authorities.
The new center, that will service all over the island 140.000 people, Lanzarote is the only one that has morgue and crematorium. It has 1.375 square meters and its harbor facilities hall, four rooms wake, room service to families, flower show and chapel.
With this new opening, Mémora sum and four centers in the province of Las Palmas. As for the other three, two funeral homes, crematoriums are located in Las Palmas de Gran Canaria and one in San Bartolome de Tirajana. The group has a fifth morgue in the Canary Islands, located in the Santa Cruz de Tenerife.
Mémora Group has a wide range of services to meet and adjust to the new demands of society, as family finance service, accompaniment to duel through professional counseling, management products such as memory "Chronicle of a Goodbye", possibility of holding religious or secular ceremonies customized, personal message with the flower of memories, eco-funerals (certified wood coffins, Biodegradable urns, ecological costumes), diamonds made from hair, removal of tissue for DNA preservation and custody, international platform repatriations (MEMORA International), catering on request of families and live music during ceremonies.
About Group MÉMORA
MÉMORA Group is the first group in Spain and Portugal for funeral services, mortuaries, crematoria and cemetery management. In 2011 performed over 44.500 funeral and 15.000 cremations, and occupied its rooms viewing over 40.000 families in Spain and Portugal.
Throughout Spain operates and manages over 120 mortuaries, 20 crematoria and 18 cemeteries, offering local service with national and international vision solutions.
Group sales in 2011 exceeded 155 million and consists of more than 1.200 Professional and 130 funeral. Its strategic plan 2009-2013 includes an investment of 110 million in the national and international expansion.
MÉMORA Group, through Servilusa, also leads the funeral industry in Portugal. The Group has pioneered the construction of the first funeral homes and crematories in Elvas and Figueira da Foz. Servilusa turnover in 2011, 26,2 million, performed 5.900 services and has more than 300 professionals.
For more information:
José Puglisi / Rosario Corero
Kreab Gavin Anderson
91 702 71 70/ 93 418 17 49
jpuglisi@kreabgavinanderson.com ; rcorrero@kreabgavinanderson.com