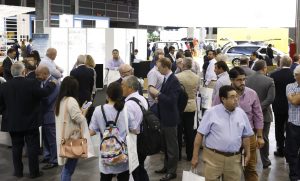 FUNERMOSTRA está completando su edición más internacional gracias a la presencia de expositores procedentes de 10 países y de profesionales de hasta 31 nacionalidades, gracias a la celebración por primera vez en España del Consejo Internacional de Dirección de FIAT-IFTA, la Organización Mundial del Sector Funerario. Este organismo internacional, que coordina las asociaciones sectoriales de 31 countries, ha realizado, also, una jornada formativa para sus miembros en la que se ha debatido sobre el futuro del sector funerario internacional, con referencias a los mercados de España, China, Estados Unidos o Reino Unido.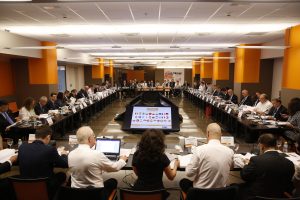 Durante la segunda jornada del certamen la afluencia de compradores ha sido superior a la del mismo día de la edición anterior, por lo que, according to the organization,,es,the total number of visitors will exceed that of,,es,In addition to the intense commercial activity,,es,FUNERMOSTRA has hosted various training activities,,es,as well as the extraordinary general meeting of PANASEF,,es,On Friday,,es,last day of FUNERMOSTRA,,es,journalist and writer,,es,Nieves Concostrina,,en,and naturalist,,es,Joaquín Araujo,,es,They will announce the names of the winners of urban art,,es,organized by the magazine "Cultural Goodbye",,es,This initiative took place last Sunday in the Turia,,es,and the resulting works can be visited until next Sunday at the Palau de l'Exposició of Valencia,,es,within the "Cultural Exhibition on the Life and Death",,es, la cifra total de visitantes superará a la de 2015. Además de la intensa actividad comercial, FUNERMOSTRA ha acogido diferentes actividades formativas, así como la asamblea general extraordinaria de PANASEF.
El viernes, última jornada de FUNERMOSTRA, la periodista y escritora Nieves Concostrina y el naturalista Joaquín Araujo darán a conocer los nombres de los ganadores del concurso de arte urbano "Adiós?", organizado por la revista "Adiós Cultural", editada por Funespaña. Esta iniciativa se desarrolló el pasado domingo en el cauce del Túria, y las obras resultantes se pueden visitar hasta el próximo domingo en el Palau de l'Exposició de València, dentro de la "Muestra Cultural sobre la Vida y la Muerte".
FUNERMOSTRA 2017 meets until Friday morning a total of,,es,exhibitors and brands on a surface,,es,The international edition of Funermostra brings together professionals,,es 110 expositores y marcas en una superficie de 4.200 metros cuadrados en el pabellón N2P2 de Feria Valencia.