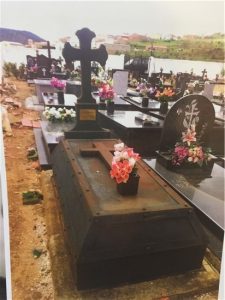 tombstones Montero,,es,FUNERMOSTRA will be presenting their services in making funerary monuments and all the accessories needed to adapt the monument to the need of the petitioner,,es,In manufacturing materials are used whose weatherability is amply proven industry,,es,corten steel,,es,stainless steel,,es,glass…,,es,The materials are used as designed by the same company,,es,but the advantage of making this combination of materials is that they can adapt to the design of the petitioner,,es,Another advantage of these monuments is its lightness assembly and disassembly,,es,Since the maximum weight to handle are,,es,Kg,,en,This lightness does not diminish the resistance as it is steel,,es estará en FUNERMOSTRA presentando sus servicios de fabricación de monumentos funerarios y todos los complementos necesarios para la adaptación del monumento a la necesidad del peticionario.
En la fabricación se usan materiales cuya resistencia a la intemperie está sobradamente probada en la industria. (Acero corten, acero inoxidable, granite, cerámica, vidrio…)
Los materiales se usan según diseño de la misma empresa, pero la ventaja de fabricar con esta combinación de materiales es que se pueden adaptar al diseño del propio peticionario.
Otra ventaja de estos monumentos es su ligereza de montaje y desmontaje, dado que el peso máximo a manejar son 60 Kg. Esta ligereza no merma la resistencia ya que se trata de acero, and in case of unforeseen shocks not fracture,,es,STAND B21,,en,Montero gravestones designed the monument you want,,es.
NIVEL 2 PABELLÓN 2, STAND B21