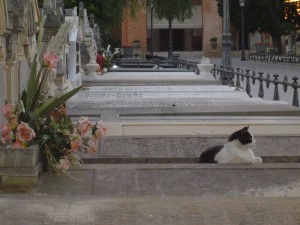 Libraries of Barcelona and Barcelona-Funeral Services Group Mémora cycle organized in six libraries of Barcelona with the aim of bringing citizens funerary culture
The conference "intermediate worlds, For Lost "and" Thoughts about death and literature "a close the cycle of death Anthropology
Professor of Anthropology at the UB Manuel Delgado with a conference on the intermediate worlds centered case series Lost, Professor and Anabel Sáiz talking about the influence of death in literature, Anthropology close the cycle of death, rituals and beliefs.

A total of six libraries of the Network of Libraries of Barcelona participated in the lecture series devoted to art, anthropology, literature, history, gastronomy and religion, which opened last 4 February.

Anthropology cycle of death has been well received by the public, and so far, above 200 people have attended the conferences.
Barcelona, 26 febrer 2013.- Although death is a taboo for many of society that seeks to hide, rituals and funerary culture is a fundamental form of human expression both now as it has been throughout all history. This constant and interdisciplinary analysis is the center of the cycle of death Anthropology: rituals and beliefs, that began last 4 February, edited by Serveis Barcelona Funeraris- Mémora Group and Barcelona Library.
CONFERENCES
Wednesday 27 February at 19.00
The intermediate worlds between life and death, For Lost
Manuel Delgado, Professor of Anthropology at the UB
Jaume Fuster Library (Pl de Lesseps, 20-22)
Thursday 28 February at 19.00
"Yesterday it was; tomorrow has not arrived ". Reflections on death in literature
Anabel Sáiz, Doctor of Philology, Professor at IES Jaume I
Joan Miró Library (Joan Miró park / Vilamarí, 61)