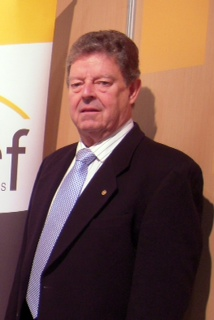 Interview with Juan Vicente Sánchez-Spider, president of the business association of funeral industry PANASEF, This year again participate in Funermostra, but also becomes sponsor. President PANASEF offers keys to the sector and expectations for Funermostra 2015, to be held 27 nd to 29 May in Feria Valencia.
–PANASEF this year reinforces its commitment Funermostra, What are the reasons, for what purpose?
PANASEF, as the largest business organization of the funeral industry, has always been present in Funermostra, as happens with other fairs held in Spain. However, this year, we considered it necessary to go a step further and are sponsors of Funermostra 2015.
Our main goal is to show Funermostra our activity and our work within the sector, position ourselves as the association of national funeral industry benchmark and open to all funeral directors attending the fair.
We want to present the great work we are doing to make society aware that funeral homes make a great effort to professionalize the industry and offer an ever more respectful and better quality service to families who come to our facilities.
-What will present at the fair PANASEF?
We are preparing a series of activities taking place in our own stand. From the Formation Commission PANASEF we organized a training session called "The Seven Pillars of funerary leader"Which will be open to all participants in Funermostra. Likewise, in the stand there is provided a photographic exhibition that will be of great interest to all visitors and other content are still managing.
We want our stand is an open space for everyone, exhibitors and visitors. We will have a seating area where you can hold meetings and business meetings since our main goal is to serve the stand point of all the funeral industry.
Also, during the days of the fair will celebrate our usual meeting of the Governing Board and the annual General Assembly, open to all partners to PANASEF.
–Funermostra as fair, What gives corporations sector?
Funermostra is fully consolidated and is one of the industry benchmark fairs. Every two years it is interesting to attend such events primarily for the latest developments in the sector and to establish professional contacts. The presence of associations in other countries, as this year of ALPAR, opens up new avenues of business. Such contact would be possible to carry out if it were not for Funermostra.
-What are the prospects for Funermostra 2015?
Our outlook for this show are very positive. As I mentioned earlier, our main objective is to show the important work we are doing for the entire funeral industry. We want this fair serve us turning point and we can move forward in the professionalization of the entire sector.
-¿And how I expected the association will be this year for funeral homes?
We believe and hope will be the year of economic recovery for all, for families and businesses in the sector. In recent years, economic crisis along with the disproportionate rise in VAT, billing funeral homes have fallen around a 15%.
The undertakers took several years trying very hard not to destroy jobs and hope this year we reach stability.