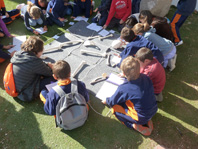 El colegio Rigel, Andrés CP or CP Tenerías Manjón are some of the schools participating this week in the activities offered to pupils Mémora Group and the City of Zaragoza. The workshops held around the exhibition Art and Culture Funeral Mémora. "The other side of life are, "We Archaeologists" and "The trail we leave" and seek to introduce students to the knowledge of the methodology of the work of the archaeologist: the first of them scans the entire process, from the excavation at the site until the presentation of results; and the second focuses more lab work.
Moreover, adult audiences can enjoy guided tours offered by the Group in the evenings Mémora. Operation under the title "Grave Secrets", follows a journey to discover the history of the exhibits.
The exhibition presents a retrospective from the Paleolithic to the present time about how cultures have understood Mediterranean funerary rites and regalia that developed and used for this purpose. The Group's exposure Mémora "The other side of life" offers workshops and tours for schoolchildren and adults both approach the work of archaeologists and historians who interpret the past civilizations.
The views tours and workshops for schools will be made until next 10 October. The exhibition can be seen until next 14 October, is located in the Marina Zaragoza and is open to the public 9 am to 9:00 p.m.. Admission is free.
MÉMORA Group
MÉMORA Group is the first group in Spain and Portugal for funeral services, mortuaries, crematoria and cemetery management. In 2011, performed over 44.500 funeral and 15.000 cremations, and occupied its rooms viewing over 40.000 families in Spain and Portugal.
Throughout Spain, operates and manages over 120 mortuaries, 20 crematoria and 18 cemeteries, offering local service with national and international vision solutions.
Group sales in 2011 exceeded 155 million and consists of more than 1.200 Professional and 130 funeral.
MÉMORA Group, through Servilusa, also leads the funeral industry in Portugal. The group has pioneered the construction of the first funeral homes and crematories in Elvas and Figueira da Foz. Servilusa year bill 26,2 million, performed 5.900 services and has more than 300 workers.
Attention to Media:
Mémora Group
Josep Mares
Marketing Area
Such 93 484 17 00 / 682 046 077
jmares@memora.es
Ayuntamiento de Zaragoza
Cabinet Press
Such 976 721 163
comunicación@zaragoza.es