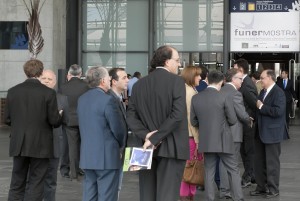 The next edition of FUNERMOSTRA with the participation of all major business groups in the sector: MÉMORA, Funespaña, INTERFUNERARIAS, ALBIA and PARCESA. So, throughout the purchasing power of national industry and a strong international presence will be on show an interest in the developments shown in FUNERMOSTRA, from 27 nd to 29 May in Feria Valencia.
Also, the current issue of FUNERMOSTRA grows on sale, gaining more prominence sector crematoriums. More national and international firms in last year indicates that two months after its conclusion will look virtually the entire surface of the pavilion 2.2 Feria Valencia to host more than one hundred companies.
The international offering will have a significant representation of Polish companies, grouped whose assistance has coordinated the Agencja Promocji Eksportu - Polish Association of the sector, Portugal and companies that come from the hand of AIMMP - Association of wood industries in Portugal.
Therefore, FUNERMOSTRA 2015 grows in supply and demand, ensuring more business opportunities for all, buyers and sellers.