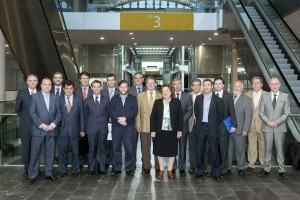 Among the events held in Funermostra, PANASEF (National Association of Funeral Services) elections held this morning for the appointment of its new Board of Governors. A board that is again chaired by Juan Vicente Sánchez-Spider (Mémora Group), who has over twenty years at the helm of this association, and two vice, Juan Jose Lopez Vivas (Funespaña) is the Senior Vice President and Joan Santos (Funeral Guild Catalonia), Second vice-president. They, along with seventeen members representing funeral homes across the country, constitute the new board of governors that starts working PANASEF from today.
PANASEF has been consolidated in this fair as the leading association of national funeral industry.
With the entry into the association of three major industry groups, Funespaña, Albia and Servisa, Represents PANASEF 60% Funeral services to be performed annually in Spain. Namely, of the 385.000 annual memorial services are done in our country, above 200.000 services are performed by companies associated with PANASEF.