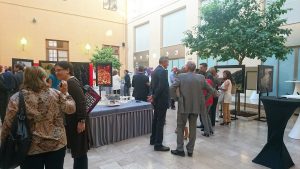 The Spanish funeral sector met Tuesday at the Palau de l'Exposició of Valencia to officially inaugurate cultural exhibition on the life and death called by Funermostra,,es,and he served as a prelude to the opening of the event on Wednesday,,es,This exhibition will be open until Sunday,,es,and integrates various exhibitions and audiovisual contributed by companies and industry associations,,es,Funespaña has brought to Valencia the exhibition dedicated to the winners of the last three editions of the competition Cemeteries Spain and finalist works Urban Art Contest held last Sunday,,es,and the winner will decide with their vote those attending the shows,,es, y que sirvió de antesala a la apertura del certamen hoy miércoles.
Esta muestra se podrá visitar hasta el domingo 28 May, e integra diversas exposiciones y audiovisuales aportados por empresas y asociaciones del sector. So, Funespaña ha traído hasta Valencia la exposición dedicada a los ganadores de las últimas tres ediciones del Concurso de Cementerios de España y la de las obras finalistas del Concurso de Arte Urbano celebrado el pasado domingo, y cuyo ganador decidirán con su voto los asistentes a la muestra.
For his part, Albia Funeral Services provides the exhibition "The many faces of mourning" and the documentary "Today I have the age of my father",,es,with four passes daily through Sunday,,es,the National Association of Funeral and Cemetery Municipal,,es,Cemeteries presents its project alive,,es,thanked the sector its presence and Funespaña,,es,Albia group and MCA collaboration,,es,without that cultural shows it would not have been possible,,es,as well he puts in value Jordi Valmaña,,es,of Funespaña,,pt,welcomed the collaboration between companies that made possible the sample,,es,and he claimed social action as a way to change the perception of society towards death,,es,He cited the contest cemeteries,,es, con cuatro pases diarios hasta el próximo domingo. Finalmente, la Asociación Nacional de Funerarias y Cementerios Municipales (AFCM) presenta su proyecto Cementerios vivos.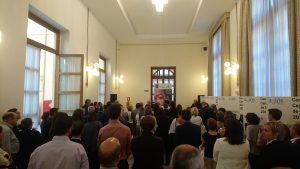 Miguel Escorihuela, President Funermostra, agradeció al sector su presencia y a Funespaña, Grupo Albia y la AFCM su colaboración, sin la que la muestra cultural no hubiera sido posible, tal como también puso en valor Jordi Valmaña, presidente de la AFCM.
José Vicente Aparicio, de Funespaña, se felicitó por la colaboración entre empresas que ha hecho posible la muestra, y reivindicó la acción social como forma de cambiar la percepción de la sociedad ante la muerte. In this sense, puso como ejemplo el concurso de cementerios, which "helps to integrate them into the city",,es,and they have been "a source of pride for many peoples",,es,Daniel Palacios,,es,Group commercial director of Albia,,es,He recalled the support of Active and undertakers Guild of Valencia and presented both exposure,,es,made with archive images of the EFE Agency and documentary,,es,a documentary in which death and explores our relationship with it to help us understand the duel in child and adolescent stage and presented for the first time outside Madrid,,es,actiidades,,et,The funeral industry attends the opening of the cultural exhibition on the life and death of Funermostra,,es, y han supuesto "un motivo de orgullo para muchos pueblos".
Daniel Palacios, director comercial de Grupo Albia, recordó el apoyo de Active y del Gremio de Pompas Fúnebres de Valencia y presentó tanto la exposición "Las mil caras del luto", elaborada con imágenes del archivo de la Agencia EFE y el documental "Hoy tengo la edad de mi padre", un documental en el que se explora la muerte y nuestro vínculo con ella para ayudarnos a entender el duelo en la etapa infantil y adolescente y que se presenta por primera vez fuera de Madrid.