La urna The tree remembers of Sortem creada por Grocs Estudi gana el premio internacional Red Dot por su diseño. Se trata de una urna biodegradable que pretende revolucionar la forma de recordar a nuestros difuntos, convirtiendo sus cenizas en un árbol o planta. Este reconocimiento se suma al que Sortem obtuvo en Funermostra 2015, cuando logró el premio al producto más innovador con Pangea, una colección de urnas que ofrecen la posibilidad a las familias de conservarlas como unidad o fragmentarla de manera equitativa entre familiares y seres queridos.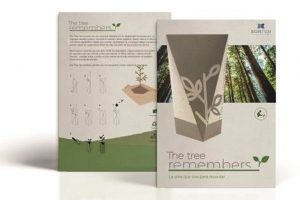 La innovadora apuesta de "The tree remembers" ha llamado la atención del jurado de los premios Red Dot, con sede en Essen (Germany), que le ha otorgado el reconocimiento entre más de 5.500 candidatos de 54 countries. Se trata de uno de los premios más prestigiosos en diseño industrial. Products such as Dyson,,es,iPhone or designer Phillip Stark have won this award at the time,,es,Lots y,,la,Laura Malagarriga,,es,its designer,,es,They have been proposed innovate in a traditional sector such as the funeral with a simple product,,es,ecological and economic,,es,but above all to change an ancient ritual as the farewell of our loved ones,,es,The biodegradable urn disappears along with the ashes to give way to a tree or plant that serves as memorial the deceased,,es,About Lots,,la,based in Terrassa,,es,is a company dedicated to the distribution and manufacture of products Funeral commitment to innovation in the sector,,es,providing solutions and offering products of proven quality,,es,About Yellow Creative Studio,,ca, el iPhone o el diseñador Phillip Stark han ganado este premio en su momento.
Sortem y Laura Malagarriga, su diseñadora, se han propuesto innovar en un sector tan tradicional como el funerario con un producto sencillo, ecológico y económico, pero sobre todo en cambiar un ritual ancestral como es la despedida de nuestros seres queridos. La urna biodegradable desaparece junto con las cenizas para dar paso a un árbol o planta que sirve como memorial del difunto.
Sobre Sortem
Sortem, con sede en Terrassa, es una empresa dedicada a la distribución y fabricación de productos funerarios que apuesta por la innovación en el sector, aportando soluciones y ofreciendo productos de calidad contrastada.
Sobre Grocs Estudi Creatiu
Yellow Creative Studio has headquarters in Vic,,ca,in creative and innovative space VIT,,es,one coworking where more than,,es,companies from very different profiles,,es,It is in this environment where Grocs born in,,es,and where he creates designs products for industries as varied as the funeral,,es,furniture and industrial machinery,,es,About Red Dot Awards,,es,Red Dot awards are granted each year a jury,,es,professionals from different sectors who value aspects such as innovation,,es,the funcionality,,es,the quality,,es,ergonomics,,es,the environmental impact and the relationship with the user of the products presented,,es,Gala awards ceremony will be held next,,es,July in Essen,,es, en el espacio creativo e innovador del VIT, un coworking donde conviven más de 20 empresas de perfiles muy diversos. Es en este ambiente donde Grocs nació en 2008 y donde crea diseños de productos para industrias tan variadas como la funeraria, mobiliario o maquinaria industrial.
Sobre los premios Red Dot
Los premios Red Dot los otorga cada año un jurado formado por 40 profesionales de diferentes sectores que valoran aspectos como la innovación, la funcionalidad, la calidad, la ergonomía, el impacto medioambiental y la relación con el usuario de los productos presentados. La Gala de entrega de premios se celebrará el próximo 3 de julio en Essen.
The urn will be exhibited at the Design Museum and the product will be published in the book of the best products of the year Red Dot,,es,Xavi Bellot,,en,exhibitors files,,es.