To the commitment to the excellence of ATROESA the no less important is added to the environment, as shown by his career. In this sense, the firm goes a step further with the launch of its new environmental management programs for cremation processes., that will be presented in the framework of FUNERMOSTRA. About the contest, to be held from 20 nd to 22 October at Feria Valencia, and about ATROESA we spoke with its managing director, Jesus Martinez Caballero.
What are the novelties that Atroesa launches this year and will show at Funermostra 2021?
ATROESA is going to present this year at FUNERMOSTRA its new environmental management programs for cremation processes, that achieve considerable savings in gas and electricity consumption, as well as a new gas filtration system, installed by FIVEMASA in the Crematorium of the General Cemetery of Valencia.
The new environmental management programs allow fuel savings of up to 40%, in addition to a significant decrease in electricity consumption, due to the recycling of gases on their way between the different chambers, the regulation and control of the different variables that influence combustion and the incorporation of new motors and burners with greater energy efficiency.
Bodybuilding elastics: Bodybuilding elastics Bodybuilding elastics Bodybuilding elastics, Bodybuilding elastics.
With this new technological development we offer the funeral sector the possibility of carrying out cremation processes with total environmental guarantee, complying with the most restrictive levels, required by the most environmentally sensitive countries in the European Union.
What is the differential factor of ATROESA with respect to other companies?
The differential factors of our company can be summarized in three points:
The quality of our productss. The crematorium ovens manufactured by ATROESA are installed in the cities that carry out the most cremations in Spain, Madrid, Valencia, Bilbao, Zaragoza, Seville, Málaga, Tenerife, etc., doing many of them, more than a thousand annual cremations per oven, since its installation.
The chemical composition of the different refractory and insulating materials used, allow us to extend the useful life of our equipment, being those chosen by the main funeral groups in our country.
Closeness to customers. ATROESA has its own technical maintenance service, with spare parts warehouse in Madrid, Valencia, Bilbao, Cádiz and La Coruña. This decentralization allows us to be able to serve our clients in the fastest and most efficient way.
ATROESA's after-sales service, includes legal advice from the beginning of the projects, as well as during the years of work of each installation, informing of the legislative changes that take place and offering them an individualized plan for their follow-up or their adaptation if necessary.
We hold regular meetings with our clients, where we prepare a study in which we offer operational recommendations, improvement opportunities, as well as continuous training of your staff.
The experience of more than 40 years manufacturing and developing new energy and environmental efficiency technologies. This technological development has allowed our clients, a significant saving, as well as the adaptation and transformation of its ovens to the new demands, without having to make heavy investments.
Thanks to the extensive experience of years of specific work in the cremation sector, allows us to offer each funeral home, an individualized design of a crematorium oven, tailored to your needs, allowing to offer the service to all the populations that request it in the best technical-economic conditions.
How many crematorium ovens have you installed during your career??
ATROESA has installed more than 200 Crematory furnaces throughout Spain, both in big cities, as in towns with a small number of inhabitants, offering the best Technical Service, with the highest environmental guarantee.
More than half of the cremations that take place in Spain are carried out in crematorium ovens installed by ATROESA.
Also free of charge loans to our future clients the accompaniment service to obtain licenses and permits necessary for the installation of a crematorium based on the requirements established in each Autonomous Community..
Have they taken the step towards the internationalization of the company towards other markets?
Due to our success for many years in Spain, We have received requests for offers for the installation of our Crematories in France and Italy., among other European countries, having installed three crematorium ovens outside our country.
Our first intention is to offer an excellent service to all our national clients and it is our short-term objective., provide this same service under identical conditions of excellence to all future international clients who request it..
ATROESA is the only crematorium oven manufacturer in Spain associated with the I.C.F. "International Cremation Federation", from which he participates in the evolution of cremation in different countries and the development of environmental legislation. especially in the different states of the European Union.
Atroesa has the certified environmental management seal and other quality certifications. Beyond legal obligations, Is it a quality mark for your products?
It is the vocation of ATROESA, the commitment to respect the environment and the protection of our ecological environment.
Desde el año 2005 We are certified in Quality according to ISO STANDARD 9001:2008, Registration number 1.2381.16 and in Environment according to ISO STANDARD 14001:2004, Registration No. M.2382.16 by CERTIFY CHAMBER, with scope: Design, Manufacturing, installation and maintenance of crematorium ovens and auxiliary equipment and the management of the provision of customer service, Creation and Maintenance of Facilities.
We also carry 16 years recorded in Regulation CE / 1221/2009, of 25 November, of the European Parliament and of the Council, that regulates the voluntary adherence of organizations to a community environmental management and auditing system (GOLD), modified by regulation (EU) 2017/1505, of 28 August and by the Regulation (EU) 2018/2026 of the Commission, of 19 from December to 2018.
We are the first Spanish company in the sector to obtain these certificates and to maintain them during 16 years, passing all environmental and quality audits and controls, that they do annually, in the manufacturing process of our products.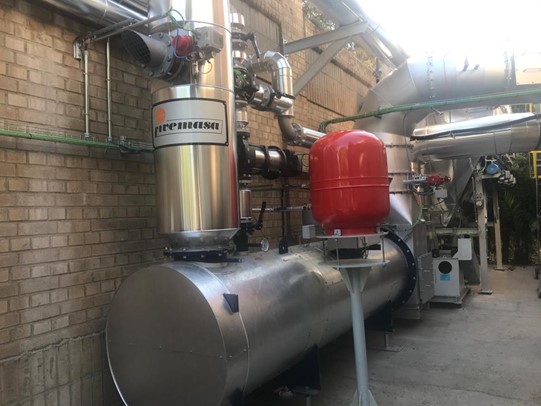 What are the environmental measures that you have implemented in your products or do you plan to do so??
We are known for establishing environmental reinforcement measures, with double security system, to guarantee compliance with regulations in the most unfavorable conditions.
We were the first company to implement two burners per chamber and together with the sophisticated design of our afterburner and gas cleaning system, allow cremation processes to be carried out with total environmental guarantee, we have also developed process control programs, allowing savings of up to 40% made out of fuel. that can be operated and managed remotely,
This system, completed with gas filtration and purification technology, developed by FIVEMASA, leading company in Spain of filtration for industrial processes, allows the reduction of emissions of a 80% of the limit values ​​required in current legislation.
Thanks to the efforts of the Valencia City Council in the conservation of the environment and the fight against climate change, these new technologies, are already implanted in the Crematorium of the General Cemetery, which can be visited by those attending Funermostra during the celebration of the contest next October, where it will be explained in more detail by technical specialists in cremation and filtration systems, each of its components and the benefits provided.
From its privileged position in the market, Do you think cremations are on the rise in Spain??
Everyone agrees that cremation is an increasingly ingrained custom in our country, with a significant year-on-year increase, as has been shown by the different studies carried out by PANASEF, where a very conclusive X-ray of our sector and its evolution is performed.
Have you noticed the pandemic in any way in your activity? How have you coped?
Evidently, the pandemic has been a challenge to overcome, facing situations that are very difficult to foresee, that demanded a greater effort from us to respond to the needs required by the various funeral companies.
Many of our Crematories were working for 24 consecutive hours for more than two months, keeping at all times, our maintenance service, training of personnel for new operators and start-up of new crematorium furnaces, to cover the situation generated.
I want to take advantage of your question to thank and congratulate all the companies in the funeral sector and their employees, for the magnificent work carried out throughout the pandemic, performing work in conditions of maximum difficulty and stress, that have not always been sufficiently recognized by our society.
How do you value Funermostra as a showcase for the exhibition of its novelties before the sector?
For us, FUNERMOSTRA is the most important Contest of the sector that takes place in Spain. Feria de Valencia has magnificent facilities and has a team of highly qualified professionals, headed by Beatriz Colom, who have been able to respond to how many requests we have made.
ATROESA has participated in all the editions carried out, having fulfilled the objectives proposed in each one of them.
For us, FUNERMOSTRA is not just an International Funeral Sector Fair, In FUNERMOSTRA, ties have been developed between the different participating companies, providers, sponsor, visitors and even between competing companies, that have served to create the great family of the funeral sector, of which we are very proud to belong.