Funermostra, International Fair of Products and Funeral, holds its next edition of 22 nd to 24 th May 2013 at Feria Valencia. The competition, sector in our country concerning, is in the throes of marketing and optimistic outlook.
The fair, biennial basis, succeeded in its latest edition excellent results, with growth of 30% square meter and 45% in international visitors.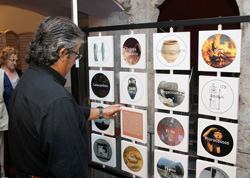 "For 2013 the goal is to reach these figures, they were a hit especially for the high quality of the buyer. Also, currently, We have already confirmed the participation of brands regarding the funeral industry in our country", explains Beatriz Colom, Director of the sample.
Funermostra 2013 also strengthen its program of activities. A program that each year brings value to the call and reinforced as a meeting point for training, information and exchange of experiences among professionals.
So, new initiatives are planned, among which an action of great originality and interest that the Group will organize Mémora. This is a mock disaster with multiple victims, where you can learn firsthand the complex logistics and act as experts in these cases due to installation of a morgue campaign.
Also, Funermostra Mémora exposure will "The other side of life. Culture funeral, Yesterday and Today", a traveling exhibition that is part of the Art and Culture Collection Funeral Mémora, more than one hundred original pieces of funerary objects representative of Mediterranean civilizations.
The group Mémora, Spain's leading funeral services, mortuaries, crematoria and cemetery management, also work with the contest sponsored by the Gala Dinner. From Mémora emphasize that Funermostra "is a must for all professionals and our involvement will be high. So we are working to develop various initiatives, we hope to meet the expectations of visitors and exhibitors".
These are just some examples of training content with which will Funermostra 2013. In fact, other actions the last event, I like holding the Paddle Tournament Funermostra, sponsored Interfunerarias. Also, the fair will host other activities, which will be released soon, collaboration with firms like Funespaña, Hygeco o Giem Unik.