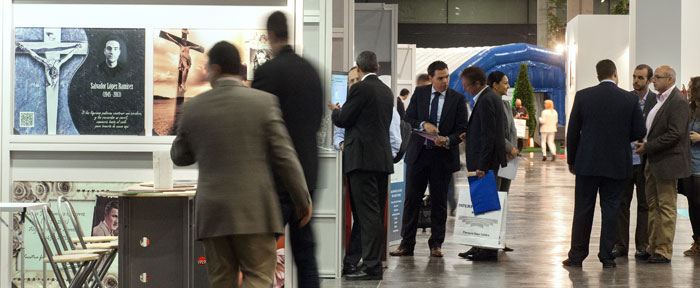 Destacados compradores latinoamericanos, de la Europa tradicional y del Este europeo han confirmado ya su asistencia a la próxima edición de FUNERMOSTRA, due to take place from 27 nd to 29 May in Feria Valencia.
Medio centenar de potenciales compradores internacionales procedentes de varios países latinoamericanos participarán en la primera edición del Foro Internacional de Negocio, FUNERMOSTRA an initiative that has the support of IVACE, Valencian Institute of Competitiveness. Los compradores participantes proceden de mercados con interés específico para las empresas españolas, lo que supone una gran oportunidad para todos los expositores de la feria.
The selection of the groups that will be present at the Forum was conducted by ALPAR and FUNERMOSTRA. ALPAR is the Latin American Association of Parks and Cemeteries grouping among its associated companies 24 countries, mainly Latinomericanos. Y es que ALPAR ha elegido también Funermostra para celebrar su Consejo Directivo anual.
Junto a todo ello, la asistencia internacional de compradores se verá reforzada por dos misiones comerciales procedentes, respectively, de Argentina y de la República Checa y Eslovaquia. The first group will coordinated by the Argentina Federation of Funeral Services and Allied -FADEDSFYA- y el segundo, por la delegación de Feria Valencia para la República Checa y Eslovaquia.
Las perspectivas son por tanto excelentes, tanto en oferta como en demanda. El negocio será el gran protagonista