Funermostra interview with Samuel Tester, Operations manager of the repatriation company Homeland International, reflecting on the difficulties of his activity during the pandemic.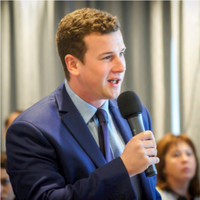 How would you summarize in a few words the response that the sector has given to the health crisis of covid-19?
It has been a challenge for all companies, also for those involved in the repatriation sector. Reflecting on the past weeks and months, I think we should applaud all those who work in these unprecedented times, for resilience shown around the world. The tremendous courage and support that people have shown has been a positive consequence of this horrible pandemic that has changed our lives and has shown that future adaptations will be much easier than one might have expected before.. Society has unitedly embraced new technologies to support those in need of care. People have learned to work as a team even when they are not physically together. This unified and collaborative approach has enabled individuals and companies to overcome the challenges they face and has consolidated best working practices to enable positive momentum forward..
What was the repatriation protocol at the beginning of the crisis? How is the protocol now?
It was very difficult to coordinate repatriation cases during the peak of the pandemic in Europe and around the world. In February, our company coordinated the management of a case that was the first death in Europe, in Paris, France. This was a learning curve and our team had to adapt very quickly. The only certainty we had in dealing with the coronavirus was through the way people living with symptoms were being handled in Europe and research on how funeral companies had been handling the virus in China and Asia.. The French authorities did not tell us what to do, rather they asked for guidance on the best way to approach the case.
The biggest challenge has been coordinating cases around the world, since there are very limited or non-existent flights for each country. We've had challenges like this before, with a volcanic eruption, for example. However, has never affected the whole world in a way like this. Budgeting has taken much longer than usual, since we have had to investigate what options are and are not possible and give a price. As usual, we can present a range of different options and prices, However, at this time, perhaps there was only one option and it could go against the wishes or beliefs of the families. This is the hardest part, since we have had to tell some families no, that repatriation is not possible and that we have to decide what we can do to help.
We have been studying best practices to deal with the situation and have helped support the entire industry with reports and guidance issued independently and also in collaboration with some international funeral trade associations.
Has the sector been paralyzed due to the new repatriation protocols?
There was a time when we had some repatriation cases that could not be completed. This was due to a number of different reasons, like locks, airline cancellations and local legislation. In some cases we were required to administer a local cremation before we could repatriate the ashes, and in other cases we had the infrastructure to keep the deceased person in a morgue until the flights were resumed.
While we are seeing some countries move towards normality, por supuesto, there are some countries that saw the pandemic affect them later and are still in a lockdown. Flights are still limited worldwide, so some cases can be completed almost normally, while others are difficult.
What has it been like to serve families in such difficult times?
Supporting families has been difficult during this international crisis, in large part because immense restrictions have been put in place that have affected repatriation. It is very difficult when you have to explain to a family that something is not possible. However, Being clear and transparent in communication is key to ensuring that the family is aware of what is and what cannot be done. There is nothing worse than giving false hope to a family with confusing information.
Homeland International has kept up with the situation, contact funeral directors, governments and international associations on what best practices look like and what regulations are changing. The situation changes daily and we have to keep control of what is happening in order to provide our clients with the most accurate information at all times..
Could you explain what the three conclusions would be after experiencing the Covid-19 crisis in the sector?
First, we have to praise everyone involved in the sector, as everyone has worked remarkably well to cope with this unprecedented situation. The pressure of the situation was very high, but we work together, even though sometimes we couldn't be physically together, so the industry has managed well. Using technology to work together effectively has been key and I hope this level of collaboration will continue in the future.. People have felt more comfortable using this technology and it has made working with companies in different countries much easier.
Por último, embassies, governments and airlines have shown a lot of flexibility during this period, as they have understood the complexities they face in obtaining the numerous documents required for repatriation. As usual, repatriation can be a long process, as many documents from different parties are required and it can be very bureaucratic. I hope that in the future we can continue to see this flexibility and that a sector can start working to simplify repatriation processes around the world..