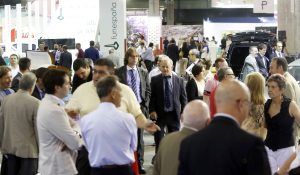 FUNERMOSTRA 2017, que abrirá sus puertas mañana miércoles 24 May in Feria Valencia, mostrará hasta el próximo viernes las principales novedades en productos y servicios del sector funerario español e internacional. En FUNERMOSTRA 2017 participarán un total de 110 expositores y marcas, un 30% más que en 2015, procedentes de países como España, Germany, Belice, China, United States, India, Italy, Mexico, Países Bajos y Portugal. El certamen ocupará una superficie de más de 4.200 metros cuadrados en el pabellón 2 Feria Valencia, un millar más que en la edición anterior.
La tecnología se muestra con fuerza en esta edición de FUNERMOSTRA gracias a novedades como aplicaciones móviles para realizar perfiles conmemorativos, urnas funerarias interactivas o programas de gestión para cementerios. El arte funerario también tiene un lugar preferente en FUNERMOSTRA con productos como arcas y monumentos funerarios personalizados, jewelry to contain ashes or sculptures made from ashes,,es,In FUNERMOSTRA also they can meet environmental solutions for the environmentally compatible as cooling systems,,es,biodegradable urns made or natural products coffers,,es,The event also hosts products such as vehicles,,es,or prefabricated,,es,and services covering the whole process of funeral business,,es,Minister of Sustainable Economy,,es,You will be responsible for opening the event and preside over the presentation of the funeral industry Decalogue developed by PANASEF,,es,a document distributed to the morgues of the companies associated with the organization,,gl,the event will host training sessions for professionals PANASEF hand FIAT-IFTA and industry,,es.
En FUNERMOSTRA también se pueden conocer soluciones medioambientales para el sector como sistemas de refrigeración ecocompatibles, valorización de residuos, urnas biodegradables o arcas realizadas con productos naturales. El certamen acoge también productos como vehículos, coronas, ovens, coffers, polls, maquinaria, o prefabricados, y de servicios que cubren todo el proceso del negocio funerario.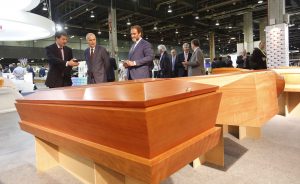 Rafael Climent, conseller de Economía Sostenible, Sectores Productivos, Comercio y Trabajo, será el responsable de inaugurar el certamen y de presidir la presentación del decálogo del sector funerario desarrollado por PANASEF, un documento que se distribuirá entre los tanatorios de las empresas asociadas a la organización.
Also, el certamen acogerá jornadas formativas para los profesionales del sector de la mano de PANASEF y de FIAT-IFTA, which first held the meeting of its Board of Directors in Spain,,es,The 14th parallel will FUNERMOSTRA a cultural aspect which will stage the city of Valencia on various activities that aim to seek a change in the perception that citizens have the fact of death,,es,Tomorrow, Tuesday,,es,hour event live his anteroom with the opening of the cultural exhibition on the life and death,,es,an initiative that will gather in one space different photographic exhibitions and audiovisual presentations promoted by the leading firms in the sector in Spain,,es,Industry data,,es,opens tomorrow with,,es,more exhibitors,,es.
Paralelamente la 14ª edición de FUNERMOSTRA contará una vertiente cultural que tendrá como escenario la ciudad de Valencia con diversas actividades que tienen como objetivo procurar un cambio en la percepción que la ciudadanía tiene del hecho de la muerte. Mañana martes 23 May at 19 horas el certamen vivirá su antesala con la inauguración de la Muestra cultural sobre la vida y la muerte, una iniciativa que recogerá en un mismo espacio diferentes exposiciones fotográficas y montajes audiovisuales promovidos por las principales firmas del sector en España.
Datos del sector
Según el Instituto Nacional de Estadísticas, en el año 2015 fallecieron en la Comunidad Valenciana 44.351 people. En el primer semestre de 2016, que son los últimos datos oficiales publicados, fallecieron 21.789. En la Comunidad Valenciana operan 231 instalaciones funerarias, lo que la convierte en la quinta comunidad con más tanatorios y velatorios del país.
In recent years the investment effort of the funeral industry has been very important,,es,The result of this effort is the extracted data in the report "Radiography of the funeral industry",,es,prepared by PANASEF,,es,It is indicating that operate in our country,,es,viewing rooms for a demand of some,,es,daily deaths,,es,President PANASEF,,es,"Our demand is not linear,,es,We can not know when they will produce the highest rates of deaths and therefore,,es,undertakers have had to make a huge investment and the funeral industry currently must be oversized ",,es,The number of crematoria is also very important,,es,According to this study,,es,exist,,es,crematoria in Spain that could give,,gl,middle,,es,service,,es. Fruto de este esfuerzo es el dato extraído en el informe "Radiografía del sector funerario", elaborado por PANASEF, que indica que operan en nuestro país 7.000 salas de velatorio para una demanda de unos 1.157 fallecimientos diarios. El número de hornos crematorios también es muy importante. Según este estudio, existen 364 hornos crematorios en España que podrían dar, de media, servicio a 1.456 cremations a day,,es,If we consider that families who choose cremation are around,,es,daily demand is,,es,According to the National Statistics Institute,,es,They died in Valencia,,es,In the first half of,,es,which they are the latest official data published,,es,They died,,es,They operate in Valencia,,es,funeral facilities,,es,making it the fifth community with more morgues and funeral homes in the country,,es,More data,,es,To meet the demand of families,,es,They exist in Spain,,es,funeral homes with capacity of more than,,gl,Currently they are operating in the market,,es,companies employing,,es,a daily average occur,,es,deaths,,es,of which,,es,They are incinerated in some of the,,es,crematoriums exist in Spain,,gl,funeral industry,,es,The funeral industry has,,es. Si tenemos en cuenta que las familias que optan por la cremación rondan el 36%, la demanda diaria es de 419 cremations