Funermostra offers a complete program for the 3 days of competition: conferences, roundtables, culture in the city, urban art contest and holding the XV edition of the Awards Funermostra.
VALENCIA 07/05/2019. Funermostra, the contest Reference of products and funeral services, It is preparing for its fifteenth edition, which will take place between 22 and 24 th May 2019 in Feria Valencia. As each edition, the show again gather the most complete range of funeral items. All new and trends during those dates will Feria Valencia.
The event will offer a comprehensive program with quality content, innovation by flag. Por ejemplo, the coach and best-selling author Victor Küppers will give a lecture entitled 'Living with enthusiasm' where fun way, practical and emotional give keys to developing the potential of each person.
International consultant will also participate Darío Loinaz, which will give an interactive conference that will discuss the most likely products to be received in the international market, how to export beyond Spain,, and how to apply new technologies to products and services. .
It will feature the presence of Joaquín Araújo, writer and naturalist, to reflect on a new concept cemetery: livelier and sustainable. This paper will present what projects they are working in this direction and will are a particular case in which it is actively collaborating: Cemetery Garden of Alcala de Henares is called the Forest of Life.
Likewise, PANASEF will have a round table which will discuss the communication of a company in crisis hand of Cristina Cantero Fresneda, degree in journalism and a Masters in Economic Information, Fernando Sánchez, Mémora responsible for marketing the Group since 7 years and director of Communication and Institutional Relations of it and Francisco Enriquez, Committee Chairman communication PANASEF.
Funeral industry association will also address how to transition into a succession in family businesses Hand Professor of IESE Business School, Alfonso Chiner, which will reflect attendees on this process, as it is based on four actors: predecessor, successor, business and family. The session will prepare in practice these four actors to successfully complete the process.
For his part, Union Funeral handManuel Martin, will give a talk especially interesting for tanatopractores: 'Techniques reconstruction '-Craniofacial. It will show reconstruction techniques focused on exposure of the body and cover all obstacles that face When restoring a corpse.
One of the last activities in advertising has It was a tasting of Valencian rice, an activity sponsored memora, funeral services company and the Provincial Guild of Undertakers Funeral of Valencia.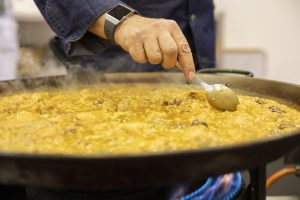 Also, the 15th edition of FUNERMOSTRA held the FUNERMOSTRA awards 2019 with the aim of highlighting and display those proposals that are committed to innovation and research the various professional sectors that make up the Fair. promotes and This recognizes the innovative actions in technologies, products and services promote business competitiveness among the companies exhibiting at the contest. Also, in this edition of the International Business will be awarded Year.
Outstanding Activities
'The four players in succession in the family business', Alfonso Chiner. Professor del IESE Business School. Wednesday 22 May at 13 hours in the square PANASEF.
Darío Loinaz conference: Wednesday 22 to 16 hours in the Plaza de PANASEF.
Joaquín Araujo Conference: Thursday 23 May at 11.30 hours in the Plaza de PANASEF.
Roundtable PANASEF: Thursday 23 May at 12.30 hours in the Plaza de PANASEF.
Tasting rice: Thursday 23 May from the 14:00.
'Techniques craniofacial reconstruction', by Manuel Martin. Thursday 23 May at 17.00 hours in the square PANASEF.
'Living with enthusiasm', a presentation by Victor Kuppers: Friday 24 to 12.00 hours in the Plaza de PANASEF.