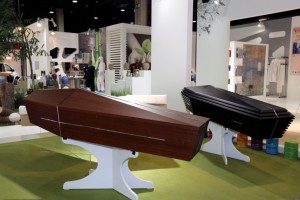 A gas explosion. Numerous injuries and several deaths. So start Funermostra 2013, International Fair of Products and Funeral, which celebrates its 12th edition at Feria Valencia from 22 nd to 24 May. The simulation, which is to be mounted to a campaign morgue, will take place on opening day and is just one of the numerous parallel activities that will be part of the call, adding value to showcase.
Mémora Group is powered by, Funermostra sponsor, collaboration with the Fair and the City of Valencia. And will involve organizations such as Red Cross, Civil Protection, Fire, Local Police and National Police, the Institute of Legal Medicine of Valencia and the Federation of Amateur Theatre of Valencia, whose members are the "victims" of this catastrophe.
Funermostra Mémora also expose the exhibition "The other side of life. Culture funeral, Yesterday and Today ", with more than a hundred pieces of funerary original representative of Mediterranean civilizations.
While, Funespaña, another prominent sponsor the event, take this year to the show film, literature and philosophy through the organization of two interesting lectures and a series of short films.
Conferences shall be borne, respectively, of journalist Nieves Concostrina, will speak on "The epitaphs and funerary literature", and the psychologist María Jesús Álava, to reflect on "The uselessness of suffering".
But also, screenwriter and director Yolanda Cruz, present several glances of women on death through a short-pass total 14 short films directed by young filmmakers Spanish- that deal with death and grieving with humor, irony, hope and self.
These activities will take place after the show closing, from the 19 hours, The Complex in Valencia Petxina, days 22 and 23 May.
Emilio lasted, a guru of personal motivation in Funermostra
For his part, Unik Giem Funermostra organized another interesting talk, that of a genuine guru of personal motivation. Emilio is Lasted, to develop the foundations of concepts such as "Personal satisfaction and professional development impact", "Personal development as a basis of professional success" and "Self-knowledge and involvement in our performance".
During the three days of Funermostra will also happen with other activities which are intended to create opportunities for networking among professionals, collaboration with firms like Interfunerarias, Hygeco International, Mémora y Albia.
Among Funermostra side events include conferences also driven relevance exhibitors and events organized by various associations sector, and the General Assembly of the Association of Funeral and Cemetery Municipal (AFCM) or the annual meeting of PANASEF.
Funermostra, show only reference in Spain and sector shows held in our country with international, has already confirmed the participation of all firms funeral and national buying power, featured as well as international groups. "Companies have again bet on Funermostra as a meeting and business platform and will come back to surprise us with innovative products and services,", Beatriz said Colom, Exhibition Director.
The appointment: from 22 nd to 24 May in Hall 2 level 2 Feria Valencia. More information at https://funermostra.feriavalencia.com /