The International Fair of Products and Funeral, Funermostra, is finalizing preparations for his next call, to be held from 27 nd to 29 May in Feria Valencia. And, currently, while still not closed the marketing stage, the fair management is convinced that it will exceed the figures of the previous quote.
And it's that big of funeral industry have already closed their participation. These companies as Mémora, Funespaña, Interfunerarias, Bergadana, Divine Aurora, Unique Giem the Hygeco, in addition to Panasef, the association representing companies providing funeral services and cemeteries.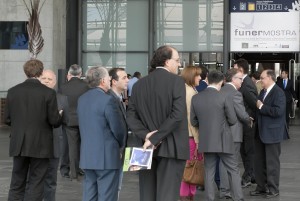 Explains Beatriz Colom, Director of the sample, Funermostra 2015 will also feature a remarkable representation of foreign exhibitors, mainly from Holland, Italy and France.
The fair, sectoral benchmark in Spain, has already ensured the presence of the companies with greater purchasing power in Spain and internationally diverse groups.
Another good news is that this year growing presence of manufacturers coffers. For the director, "There are still two long months for the celebration of this issue but we have very good prospects, and that in all probability overcome on offer at the previous edition ".
Also, Funermostra host the Board of the American Association of Parks Cemeteries and Funeral Services ALPAR, "Ensuring the presence in Valencia of the largest employers in the funeral sector across the Atlantic".
"This, together with other agreements that are ending profiling and announce shortly, will of Funermostra 2015 a very special edition that no professional may be lost ", concludes Colom.