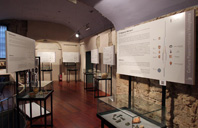 Cerveró Palace of the University of Valencia has welcomed, until Friday 31 August, Group sample Mémora The other side of life – Culture funeral, Yesterday and Today. A total of 20.128 Visitors have been enjoying the art collection and burial culture along these 10 first months of roaming by various Spanish cities.
The other side of life – Culture funeral, Yesterday and Today- es una exposición itinerante que hace un recorrido de la cultura funeraria, desde el Paleolítico hasta la época actual, con el fin de dar a conocer a todos los públicos la evolución de la cultura mortuoria en el Mediterráneo. La exposición, que ya ha estado expuesta en Sevilla, Málaga, Madrid, Terrace, Barcelona y Valencia, ha sido trasladada ahora al Club Náutico de Zaragoza, donde podrá ser visitada hasta el próximo 15 October.
En Valencia han sido más de 200 las personas que han participado en el ciclo de conferencias que se ha organizado paralelamente a la muestra. El ciclo, que trataba sobre la muerte desde una perspectiva ético-filosófica, fue organizado conjuntamente por el Grupo Mémora y el Instituto de Historia de la Medicina y de la Ciencia López Piñero (centro mixto de la Universitat de València y el CSIC), con sede en el Palacio de Cerveró. La buena muerte, con Jesús Mosterín, ¿Qué es la vida? impartida per Mar Cortina y Antropología de la muerte y el duelo, de la mano de Cristina Sánchez-Carretero fueron las tres conferencias que se desarrollaron a lo largo del mes de junio.
La Colección de Arte y Cultura Funeraria Mémora, responde al compromiso de Responsabilidad Social de la compañía, que tiene por objetivo que la ciudadanía integre la muerte como una parte de la vida. Con la misma finalidad, Grupo Mémora colabora también en la edición de libros y documentales sobre el duelo, y organiza el ciclo de conferencias Círculo Mémora: Aproximaciones en torno a la muerte, entre otras actividades.
MÉMORA Group
MÉMORA Group is the first group in Spain and Portugal for funeral services, mortuaries, crematoria and cemetery management. In 2011, performed over 44.500 funeral and 15.000 cremations, and occupied its rooms viewing over 40.000 families in Spain and Portugal.
Throughout Spain, operates and manages over 120 mortuaries, 20 crematoria and 18 cemeteries, offering local service with national and international vision solutions.
Group sales in 2011 exceeded 155 million and consists of more than 1.200 Professional and 130 funeral. Its strategic plan 2009-2013 includes an investment of 110 millones de euros para la expansión nacional e internacional.
MÉMORA Group, through Servilusa, also leads the funeral industry in Portugal. The group has pioneered the construction of the first funeral homes and crematories in Elvas and Figueira da Foz. Servilusa year bill 26,2 million, performed 5.900 services and has more than 300 workers.
Attention to Media:
Mémora Group | Marketing Area | Josep Marés | jmares@memora.es
Such 93 484 17 00 / 682 046 077
Palacio Cerveró | Sergio Villalba | sergio.villalba@uv.es
Such 96 392 62 61
Síguenos en:
FACEBOOK: http://www.facebook.com/memoracultura
TWITTER: https://twitter.com/memoracultura
FLICKR: http://www.flickr.com/photos/laotracara/