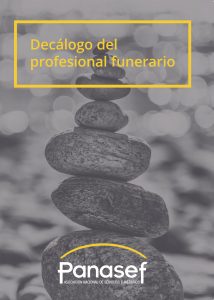 On the occasion of the inauguration of Funermostra,,es,national funeral industry fair,,es,It presents at its booth the Decalogue Funerario,,es,a document,,es,to be distributed among the funeral homes of the companies associated with PANASEF,,gl,which establishes the fundamental principles of the association's Code of Ethics,,es,The new Decalogue Funerario will be a guarantee for families as undertakers associated with PANASEF have assumed the commitments specified in the Decalogue,,es,"For us it is very important this Decalogue because it is a commitment to the families of professionalism and transparency,,es,We will provide guidance to resolve potential conflicts that may arise between funeral companies and families ",,es, la feria nacional del sector funerario, PANASEF (National Association of Funeral Services) presenta en su stand el Decálogo Funerario. Un documento, que se distribuirá entre los tanatorios de las empresas asociadas a PANASEF, que recoge los principios fundamentales del Código Ético de la asociación.
El nuevo Decálogo Funerario será una garantía para las familias ya que las empresas funerarias asociadas a PANASEF han asumido los compromisos que en el decálogo se especifican.
Según Juan Vicente Sánchez-Araña, presidente de PANASEF, "para nosotros es muy importante este decálogo ya que es un compromiso hacia las familias de profesionalidad y transparencia. Also, nos va a servir de orientación para resolver posibles conflictos que puedan surgir entre las empresas de servicios funerarios y las familias".
In presenting the Decalogue Funerario,,es,which will take place tomorrow Wednesday at,,es,will be present sustainable economy Conseller,,es,Trade and Employment of the Generalitat Valenciana,,es,and the Secretary General of PANASEF,,es,Carlos Hurtado,,es,PANASEF presents the Decalogue of the funeral industry in Funermostra,,es, que tendrá lugar mañana miércoles a las 10:00 hours, estará presente el Conseller de Economía Sostenible, Sectores Productivos, Comercio y Empleo de la Generalitat Valenciana, Rafael Climent, y el Secretario General de PANASEF, Carlos Hurtado.