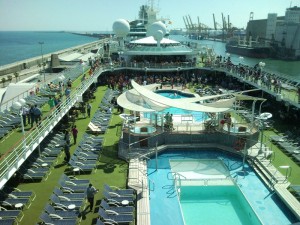 It will take place between days 12 and 15 July for the Riviera Franchesa
Funeral Magazine has decided to celebrate in style the 15th anniversary of its congress organizing a cruise 4 days 3 night Mediterranean to sail on Saturday 12 July at 17 h. Port of Barcelona with stops in Villafrance (can visit Monaco, Montecarlo and / or Nice) and Ajaccio-Corsica, to return on Tuesday 15 first thing in the morning to Barcelona.
Monday afternoon, day 14 July, while the ship sails back to Barcelona Symposium conferences will be scheduled, which again will focus on topics of interest to funeral professionals. The other days of the cruise passengers will enjoy with their friends and colleagues and, who wishes, also accompanied his relatives, Boat facilities, animation crew and visit the most important sites in the aforementioned tour.
The registration fee includes, addition to attending the lectures of the Fifteenth National Symposium Funeral Sector, stay in the cruise regime 'All Inclusive' and lodging in private cabin or shared according to election, access and use of facilities and participation in all activities and entertainment programs on the boat.
National Symposium on the Funeral Industry
A pioneer in its field, Symposium born in 1998 as a result of the demand for professionals with the goal of becoming a platform for exchange of ideas and experiences, at a time of great dynamism to the sector. This first edition aroused great excitement among funeral and related agents, bringing together over 130 people; figure in subsequent calls stood between 100-150 Attendees. Itinerant vocation, The meeting was held in various Spanish cities like Madrid, Valladolid, Alicante, Seville, Valencia, Barcelona, Torremolinos-Málaga, Xativa-Valencia, Bilbao o Gijón.
The conference program has always had the contribution of scientific leaders with extensive experience in each of its areas of activity. Funeral Magazine welcomes the participation of institutions and partner companies in each of its editions, as well as speakers, who have shared their extensive knowledge and have made this Congress the trust and recognition of the whole sector earn.
For more information:Romina Tomás / Tel. 93 226 50 33/
revistafuneraria@mpresspublicaciones.com